2017/08

PRODUCTS
Launch of Collagen Enrich,
ReFa's first beauty drink developed in collaboration with Fujifilm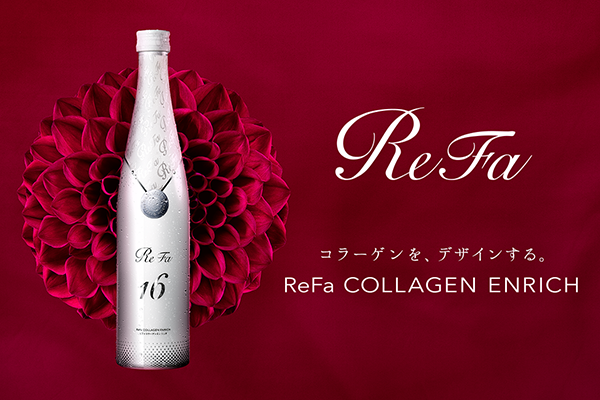 On August 23, 2017, ReFa released its first beauty drink, Collagen Enrich, in stores across Japan and on the official ReFa website. Developed in collaboration with Fujifilm, the drink provides a highly-concentrated dose of pure, low-molecular collagen.
■Development
MTG began studying the benefits of collagen supplements while developing ReFa's beauty rollers.
After researching the best collagen suppliers in the world, we decided to collaborate with Fujifilm - a renowned Japanese company whose expertise in collagen processing comes from decades of developing cutting-edge film technologies.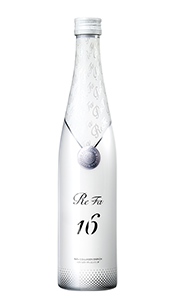 ■ReFa Collagen Enrich
1. ReFa's high-concentration collagen drink contains 160,000 mg of high-purity, low-molecular collagen for rapid absorption.
1: ReFa's Collagen
1.High-concentration: Each 480 mL bottle contains 160,000 mg of pure, quality collagen
2.High-purity: Approximately 80% of impurities are removed during the processing of this pure, virgin collagen extract
3.Low-molecular: Collagen has a low molecular weight for optimal absorption
2. ReFa's Original Formula
Designed to enrich the ReFa brand lifestyle.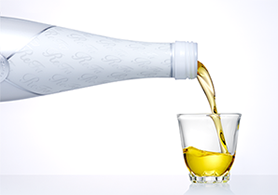 Original Formula:
Formulated with vitamin C and cysteine peptide for optimal absorption, high-purity ReFa Collagen Enrich has none of the distinctive odor typically associated with less pure collagen drinks. Its delightful mixed berry flavor makes ReFa Collagen Enrich an enjoyable part of your daily beauty routine.
Bottle Design:
Unlike conventional collagen drinks, ReFa Collagen Enrich comes in an elegant bottle with a fashionable design that fits seamlessly into your everyday life.
■Details
Product name: ReFa COLLAGEN ENRICH
Contents: 480 mL
Price: 8,800 yen (excluding tax)
Release date: August 23, 2017
Ingredients: Collagen Peptide (Including Gelatin), Erythritol, Maltose, Fructose, Yeast Extract / Acidifier, Vitamin C, Sweeteners (Potassium Acesulfame, Sucralose), Fragrance, Preservative (Parahydroxybenzoic Acid)
[Inquiries regarding this content]
MTG Co., Ltd.
MTG No. 2 HIKARI Bldg., 4-13, Honjindori, Nakamura-ku, Nagoya, Aichi, 453-0041
URL:
www.mtg.gr.jp
Kazue Kato / Toshihiro Otsu
PR & Advertising Group, Promotion Division
Email:
mtgpr@mtg.gr.jp
TEL: 052-481-1269 FAX: 052-481-5101