2017/10

INFORMATION
Acquisition of Land to Build a New Corporate Office Building for MTG
In response to the increase in staff and expansion of business as a result of our rapid growth, MTG Co., Ltd.* is pleased to announce the acquisition of 21,718.83 square meters of land in Atsuta Ward, Nagoya, Aichi for the construction of our new corporate headquarters.
*Head Office: Nagoya, Aichi; Representative Director & President: Tsuyoshi Matsushita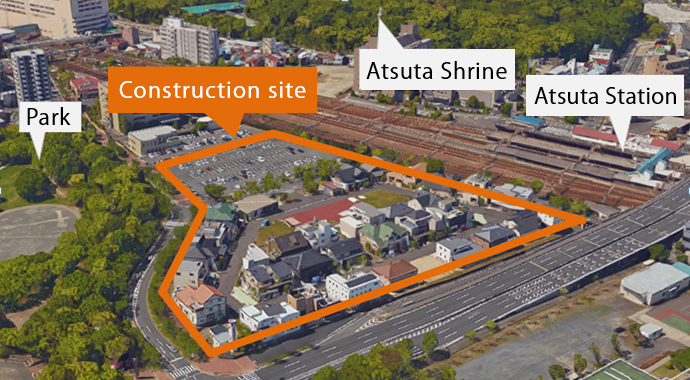 Map data: Google, ZENRIN
The company will move from the present MTG Headquarters in Nakamura Ward, Nagoya, Aichi to the new location, for which construction is set to be completed by 2021.
The site will contain not only the new office headquarters, but also research and development facilities, a product design center, a creative lab, a fitness center and spa featuring MTG products, an art gallery, and a number of health and beauty-oriented eateries.
In cooperation with local residents, MTG will also be contributing to the urban development surrounding the nearby JR Atsuta Station.

By continuing to develop new brands in line with the company's slogan of "We have many dreams," MTG will champion Japanese ingenuity and craftsmanship at home and abroad. With every new challenge that we take on, we will remain committed to exceeding our customers' expectations.
■Overview of the Acquired Property (Total of Two Sites)
1.
Location
:
101-2 Atsuta-ku, Nagoya, Aichi
Site area
:
16,303.06 square meters
Date of contract conclusion
:
March 30, 2017
Site transfer date
:
April 28, 2017
2.
Location
:
101-20 Atsuta-ku, Nagoya, Aichi
Site area
:
5,415.77 square meters
Date of contract conclusion
:
September 25, 2017
Site transfer date
:
October 17, 2017 (provisional)
[Inquiries regarding this content]
MTG Co., Ltd.

Yamashita, Corporate Planning Office
TE: 052-481-1284 Email: corporate_pr@mtg.gr.jp