2018/07

INFORMATION

RELEASE
The Futuristic EMS Training Gym "SIXPAD STATION Daikanyama":
Grand Opening on July 26th (Thursday)
-- Watch for the TV Commercial Broadcast!
On Thursday, July 26th, 2018, MTG Co., Ltd. (Nagoya City, Aichi Prefecture, Japan; President: Tsuyoshi Matsushita) is celebrating the grand opening of its EMS training gym "SIXPAD STATION Daikanyama," a new enterprise added to the SIXPAD brand for wearable training gear. In addition, the first TV commercial for SIXPAD STATION will be broadcast in late July 2018.
SIXPAD STATION has its origins in the SIXPAD which revolutionized EMS devices, and is the world's only
*
futuristic EMS-integrated training gym that uses advanced technology. Wrap yourself in an EMS full body suit that covers 9 areas of the body with 18 electrodes. Exercise through an EMS-integrated training program as you check your posture and the muscles you must focus on in the digital training mirror. The result is efficient full-body training in just 15 minutes.
"It isn't just exercise; it's a training experience that beautifies your whole body at once." As the first membership-only SIXPAD service, the SIXPAD STATION EMS training gym will open in Daikanyama to introduce an elegant and refined space to the world.
*An EMS training gym based on CMM Pulse. (As of May 2018)
■SIXPAD STATION Daikanyama
■Grand Opening on Thursday, July 26th! 1-4-10 Aobadai, Meguro-ku, Tokyo, Japan 153-0042
SIXPAD STATION Daikanyama, Daikanyama LOG Building, Floors 1 & 2
Hours of Operation: 9:00 to 21:00 on weekdays and Saturdays / 10:00 to 19:00 on Sundays and holidays
Website:
https://www.sixpad-station.com/
■TV Commercial Broadcast Starts in Late July!
A SIXPAD brand movie featuring the futuristic space and 15-minute full body training experience will be broadcast. Don't miss it!
■Training System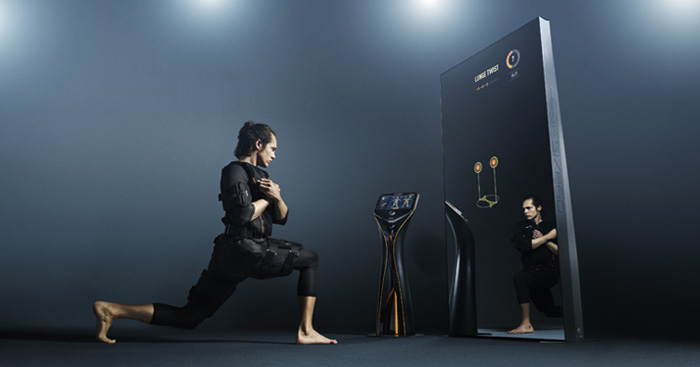 ■Control Tower
Managing and optimizing training.
Control Tower is a device for controlling the EMS full body suit and the digital training mirror. Connected through Bluetooth, it stores users' individual training levels using memory functionality through the IoT. Allows you to effectively train your body.
■EMS Full Body Suit
Exercising every muscle in the body at the same time.
The specialized EMS training suit is fitted with electrodes in optimum locations and sizes to match the body's muscle characteristics. The close fit for an even delivery of electricity was designed with ease of movement in mind. It further provides superior water retention for highly effective impulse distribution, and efficiently trains muscles throughout the body at the same time.
■Digital Training Mirror
Guidance for higher quality training.
The mirror display helps to achieve a correct training posture. Detailed skeletal information, obtained through the built-in sensors, is analyzed and individual guidance for optimum training movement is displayed on a screen. Based on the data received from the control tower, it displays the body parts with the muscles that you need to focus on more.