2018/10

INFORMATION

RELEASE
Announcing the Establishment of MTG Ventures, Inc.
Go Fujita Appointed as Representative Director & President of New Company
MTG Co., Ltd. (Head Office: Nagoya, Aichi; Representative Director & President: Tsuyoshi Matsushita) has established a new company, MTG Ventures, Inc., and appointed Go Fujita as its representative director and president. A press conference was held on Wednesday, October 3rd, 2018 at MTG's Tokyo R&D Center to announce the establishment of the new venture.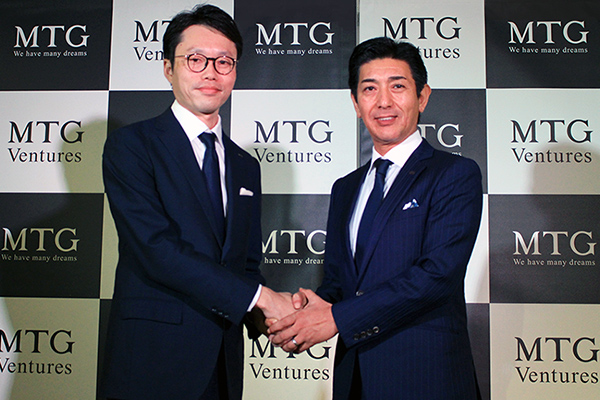 Above: Fujita, Representative Director & President of MTG Ventures (left), shaking hands with Matsushita, Representative Director & President of MTG (right)
Corporate venture capital firm MTG Ventures, Inc. was established on Monday, October 1st, 2018, with the purpose of expanding MTG's business activities in the field of beauty and wellness. It has five billion yen available for investment, and will invest in startup companies in the fields of beauty and wellness tech, food tech, and sports tech, to collaborate on business activities.
Go Fujita (age 43) has been appointed representative director and president of the new company. He began working at Japan Associated Finance Co., Ltd. (now JAFCO Co., Ltd.) in 1997, and has a 22-year track record in venture capital. He has been involved in making fund offers, and in investment projects startup to later stages, and has been appointed to directorial positions in companies in which JAFCO invested.
"I have met over 5,000 business managers, and I think Matsushita is the best of them. What sets MTG apart in the world of CVC is that the company manufactures products, builds brands, and has sales channels. By providing access to these strengths to startup companies that the venture invests in, we aim to encourage their growth and be the No. 1 venture capital fund in Japan that specializes in beauty and wellness tech. We will make investments over spans of about four years. Out of the five billion yen, we will use four billion for initial investments, and invest 100 to 200 million yen per company, therefore funding about 30 companies. In addition, we hope to boost startups in Nagoya by developing incubation facilities, organizing seminars for startup companies conducted by Matsushita, and educating elementary school students on entrepreneurship. We also hope to contribute to the local community by developing Nagoya's first venture ecosystem," said Fujita in the press conference.
Matsushita, CEO of MTG, says in return, "I have known him for nearly 10 years, and I have great trust in him--in his personality and character as well as his track record and experience. I believe it was a very big decision for him to take up the position. I expect he will use his experience to the fullest as a member of the MTG group. MTG aims to promote beauty and wellness tech, and providing support for startups will boost the company's brand. I hope to bolster our brand development company hand-in-hand with MTG Ventures."
■Overview of MTG Ventures, Inc.
Location: Office Omori 8th floor, 2-8-24, Nishiki, Naka-ku, Nagoya, Aichi, 460-0003, Japan
Description of business: Investment, management of investment limited partnerships, education, and event planning and organizing
Capital: 100 million yen
Shareholder structure: 100% owned by MTG (account closing in September)