2019/02

INFORMATION

RELEASE
MTG to Be Main Sponsor of the 61st
GRAMMY® Awards Official Gift Lounge
In a record-breaking sixth sponsorship,
MTG will showcase its ReFa brand to top artists
and celebrities from around the world.
MTG Co., Ltd. (Head Office: Nagoya, Aichi; Representative Director & President: Tsuyoshi Matsushita) has been selected as a main sponsor of the 61st GRAMMY Awards Official Gift Lounge. The ceremony will be held on Sunday, February 10, 2019* in Los Angeles, CA, and the Gift Lounge adjacent to the venue will be open from Thursday, February 7, 2019 to Saturday, February 9, 2019.
*All dates and times are Pacific Standard Time.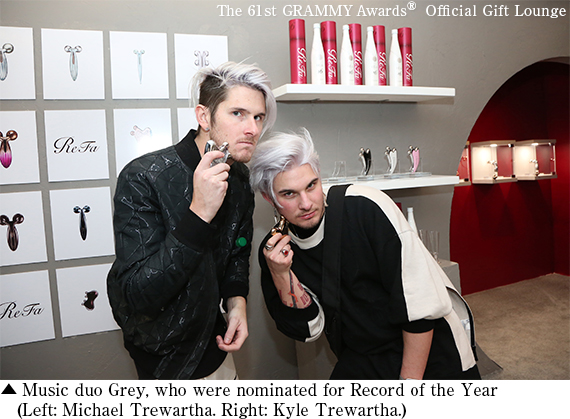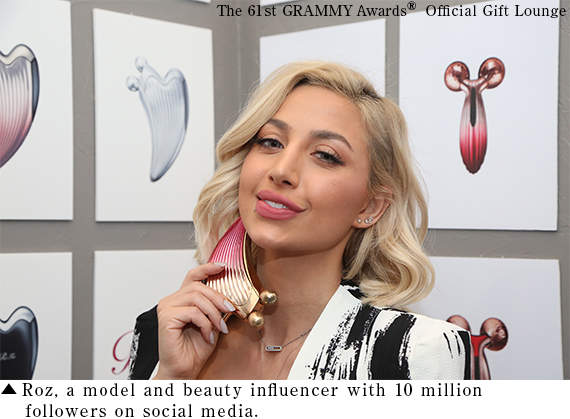 ■Record-Breaking Sixth Selection as Main Sponsor
The GRAMMY Awards are among the highest musical honors in the world. Top artists and music legends, as well as celebrities and executives, gather from around the world for the event. Only VIPs invited to the ceremony are allowed to enter the Official Gift Lounge, where products and services that have been rigorously evaluated and chosen by the organizers are showcased and given to attendees. This marks the 20th year for the Gift Lounge, and MTG has been selected as a main sponsor of this world-class exhibition.*2 This is the sixth time that MTG has been selected as a main sponsor of the Official Gift Lounge, and the third year in a row. This is the most main sponsorships by a single company in the history of the Gift Lounge.

The brand MTG will be presenting this year is ReFa, an innovative luxury beauty brand that continues to gain celebrity fans around the world. In addition to showcasing several new products that will make their US debut at the event, the ReFa booth will feature the ReFa CAXA RAY, a revolutionary beauty device that was released in Japan in May 2018, and ReFa COLLAGEN ENRICH, a beauty drink co-developed with Fujifilm that contains a highly concentrated, ultra-pure type of collagen.
*1: MTG showcased multiple brands at the 59th GRAMMY Awards Official Gift Lounge, including ReFa and SIXPAD. Several GRAMMY attendees visited the booth, including actor John Travolta (left) and TV personality Amber Rose (right). The year before, musical artists who visited the booth included Cyndi Lauper, Ice-T and Khalid. One year, Justin Bieber even stopped by to check out MTG's products. Attendees have expressed that they look forward to MTG's presence at the event, and the opportunity to get a sneak preview of MTG products that have not yet been released in the U.S.

*2: Past main sponsors include Microsoft and Casio. Products are chosen according to their levels of innovation, ease of use, uniqueness, and freshness, rather than high price points.
For inquiries regarding MTG's participation in this event, please contact
Yamamoto or Yamashita
Stakeholder Relationship Team / Corporate Strategy Office
E-mail:
pr_corporate@mtg.gr.jp