2019/02

INFORMATION

RELEASE
MTG Once Again Presenting
Sponsor of The 61st GRAMMY Awards®
Official Gift Lounge
In a record-breaking sixth sponsorship,
*
MTG showcased its ReFa brand
to top artists and celebrities from around the world.
* Including non-title sponsorships, this was MTG's ninth sponsorship
MTG Co., Ltd. (Head Office: Nagoya, Aichi; Representative Director & President: Tsuyoshi Matsushita) was selected as a main sponsor of the 61st GRAMMY Awards
®
Official Gift Lounge. The ceremony was held on Sunday, February 10, 2019 in Los Angeles, U.S.A., and the onsite gift lounge was open all three rehearsal days from Thursday, February 7 to Saturday, February 9.
*All dates and times are Pacific Standard Time.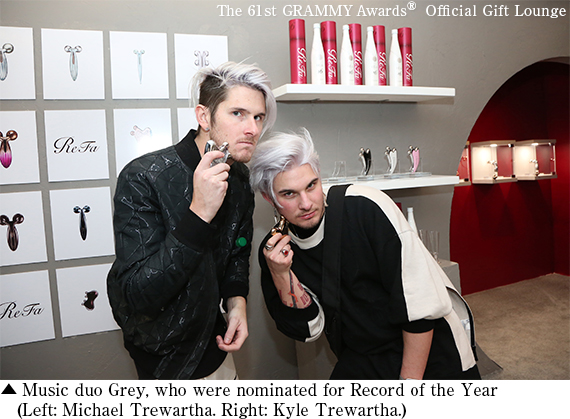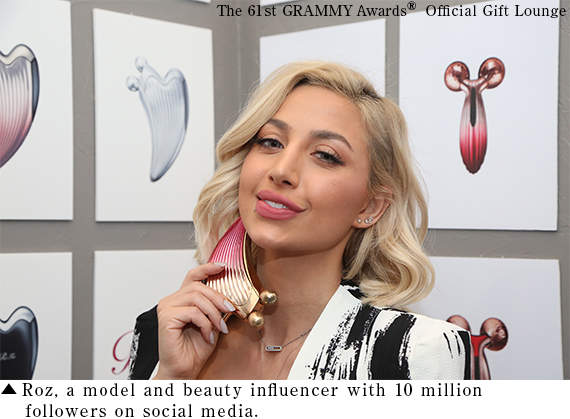 ■Record-Breaking Sixth Appointment as Title Sponsor
The GRAMMY Awards are the highest musical honor in the world. Top artists and music legends gather from around the world for Music's Biggest Night
®
. Show presenters and performers are invited to the official Gift Lounge, where products and services that have been chosen by the organizers upon rigorous evaluation are showcased and given as thank you gifts.
1
This marks the twentieth year for the Gift Lounge, and MTG has once again been selected as the presenting sponsor of this world-class exhibition.
2
This is the sixth time overall that MTG has served as presenting sponsor and the third year in a row. This is the most title sponsorships by a single company in the history of the Gift Lounge.
The brand MTG had featured this year was none other than ReFa, a beauty brand that continues to gain fans around the world. The ReFa booth featured the ReFa CAXA RAY, which was released in Japan in May 2018, and ReFa COLLAGEN ENRICH, a beauty drink containing high concentrations of collagen co-developed with Fujifilm, as well as new products that made their debut at the event.
1: In the past, many celebrities have visited MTG's booth at the Gift Lounge, including actor John Travolta, TV personality Amber Rose, and singers Cyndi Lauper, Ice-T, Khalid and Justin Bieber. Attendees have expressed that they look forward to MTG's presence at the event, and the opportunity to get a sneak preview of MTG products that have not yet been released in the U.S.

2: Past title sponsors of the Gift Lounge have included Memorex, Casio, Xbox and Moroccan oil. However, MTG is the only sponsor to have been selected so many times. According to the producer of the Gift Lounge each year, "We look for sponsors who can provide meaningful gifts to talent ... gifts that are "fresh", unique, useful and life-enhancing. MTG's portfolio of brands checks all those boxes, which makes them an ideal partner."
Cardi B, winner of Best Rap Album at the 61st GRAMMY Awards.
Nominees in several other categories, including Post Malone and Camila Cabello.
The eyes of the world are on these top artists, and they've given ReFa rave reviews.
Many of the top artists who attended this year's GRAMMY Awards ceremony visited MTG's booth, tried out ReFa's beauty rollers and CAXA devices, and expressed surprise and delight at the massage experience provided by the devices.
Cardi B, winner of Best Rap Album, came to the booth looking tired after rehearsal for the ceremony, but after a face and neck massage with the ReFa RHYTHM, she proclaimed, "I love it!" She took home two of the product, commenting that she wanted her mother to try it, as well. Post Malone, who was nominated in four categories, including Record of the Year, tried out the ReFa CAXA RAY. After receiving a massage with the product, designed to relieve stiffness and knots in the facial muscles, he said, with a look of great delight, that he would give one to his girlfriend. Other top artists who enjoyed the ReFa experience included Camila Cabello, who was nominated in two categories including Best Pop Vocal Album, and both members of music duo Grey, who were nominated for Record of the Year. One visitor to the booth commented that a ReFa device was like a masseuse in the palm of your hand.
Besides musical artists, many people from the industry came to the booth, including model and beauty influencer Roz, who has 10 million followers on social media, and popular TV personality Keltie Knight. The sight of VIPs from around the world enjoying ReFa products was truly remarkable.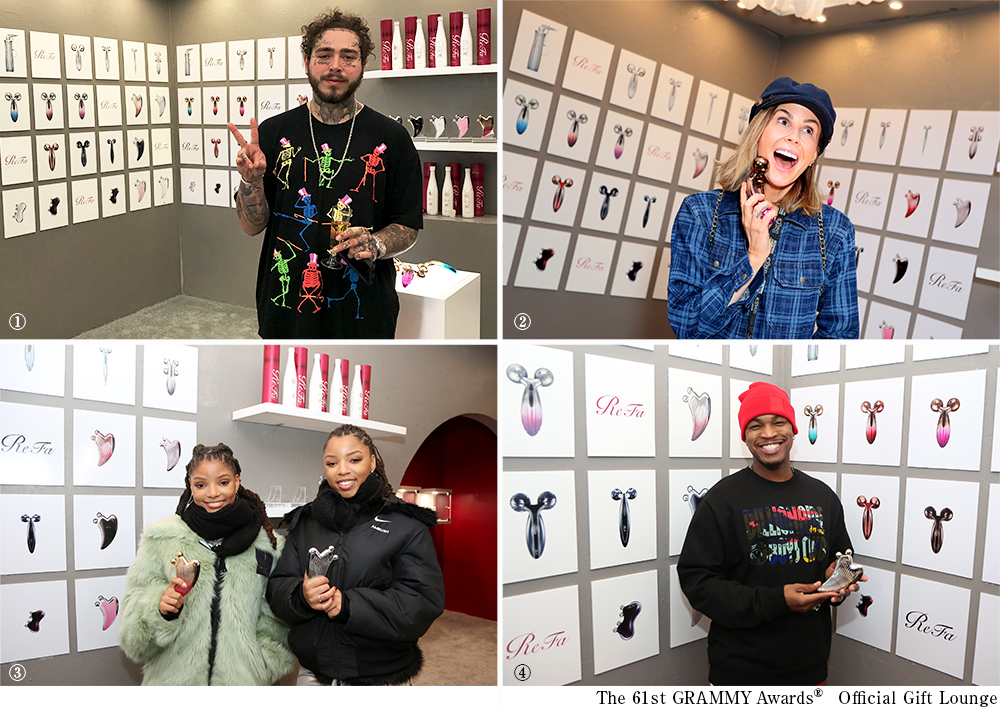 ① Post Malone, who was nominated for four awards including Record of the Year and also performed at the ceremony
② Popular news personality Keltie Knight
③ Music group Chloe x Halle, who were nominated for two awards, including Best New Artist
④ R&B singer-songwriter and music producer Ne-Yo
For inquiries regarding MTG's participation in this event, please contact
Yamamoto or Yamashita
Stakeholder Relationship Team / Corporate Strategy Office
E-mail:
pr_corporate@mtg.gr.jp