2023/07

INFORMATION

RELEASE
Ronaldo, on his first visit to Japan in 8 years,
"I am very happy to participate in the new product launch event as a member of the MTG family."
He also showed off his great abs!
Celebrating the launch of the new SIXPAD products,
Cristiano Ronaldo will visit Japan for an event.
Cristiano Ronaldo's first visit to Japan in 8 years, SIXPAD, the EMS-centered training brand of MTG Co., Ltd. (Headquarters: Nagoya City, Aichi Prefecture; President: Tsuyoshi Matsushita), held a "SIXPAD New Product Release Commemorative Event with Cristiano Ronaldo" at Hilton Hotel Osaka on Wednesday, July 26, 2023 to celebrate the release of its new product, SIXPAD Powersuit Core Belt [HOME GYM compatible model] (*hereafter, Core Belt).
At the event, Ronaldo and Matsushita had a conversation and looked back on the 10 years they have spent with SIXPAD. The event also included a Q&A session with Ronaldo from children in the audience, and Ronaldo signed a T-shirt on the spot and gave a special gift to one visitor in the audience.
To commemorate Ronaldo's visit to Japan, a five-day campaign will be held from July 26 (Wed.) through July 30 (Sun.), during which two people will win goods autographed by Ronaldo and the first 100 people to arrive will receive a limited edition water bottle for Ronaldo's visit to Japan.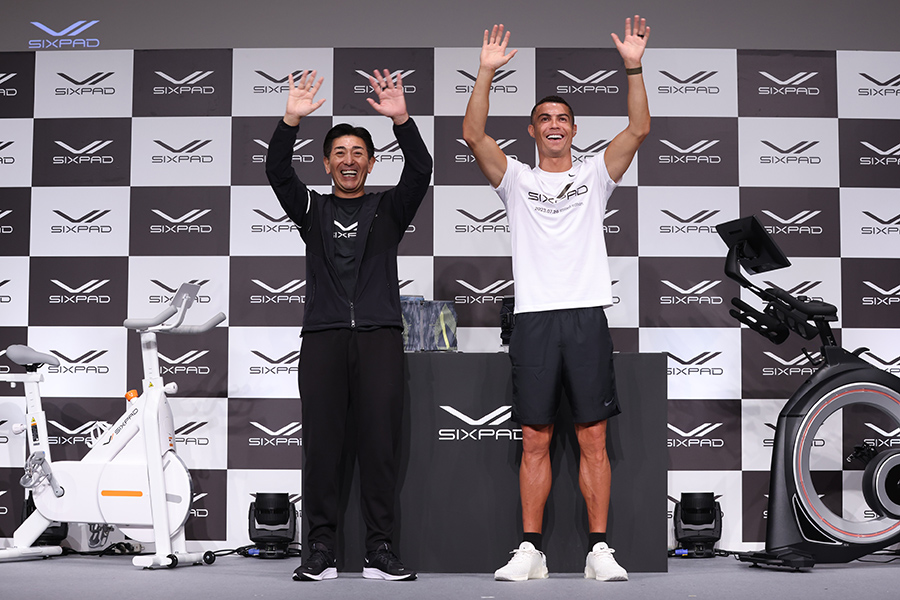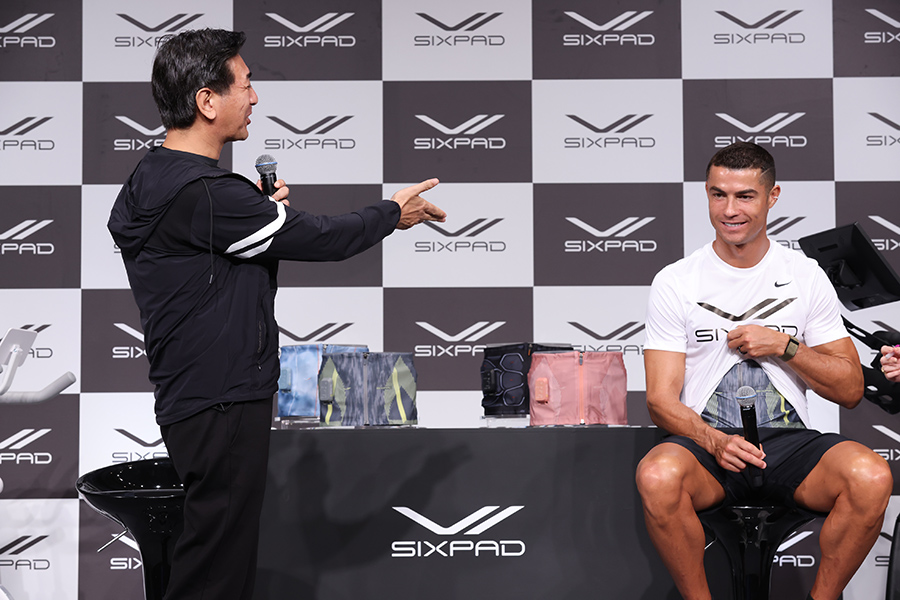 Explanation of the features of the new "Core Belt" product and hybrid training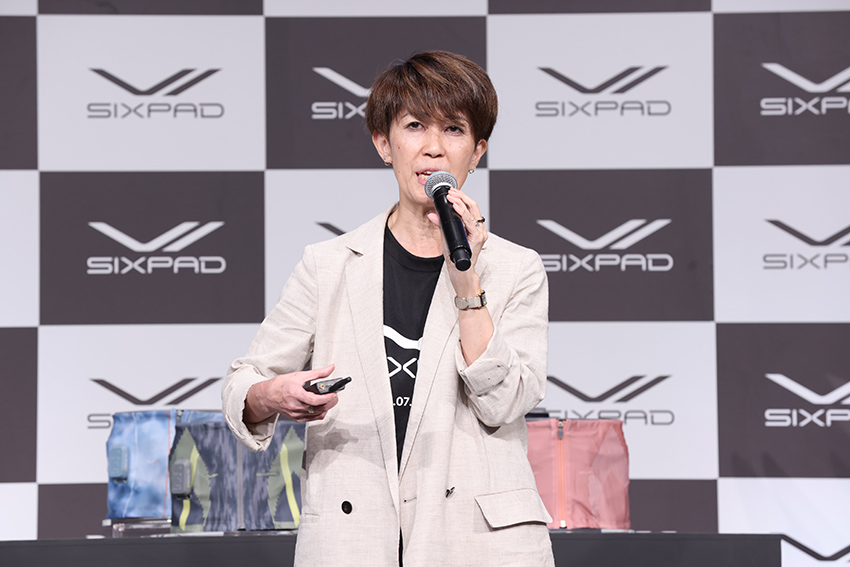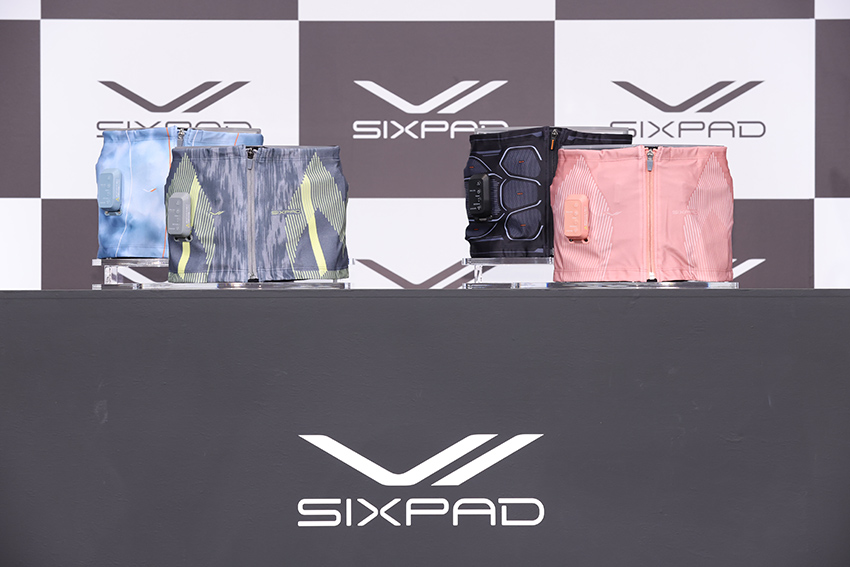 Keiko Ishitani, Senior Executive Officer of SIXPAD Brand Management Division, explained the history of SIXPAD up to the birth of the Core Belt.
She explained that "Core Belt" is a long-awaited wearable type EMS without gel sheets and uses SIXPAD's unique fabric electrodes "ELEDYNE," which are safe, easy to use, durable, and fit well around the waist. She also announced that "Core Belt" can now be used for "hybrid training," combining muscle training and aerobic exercise, such as running while using EMS to strengthen the abdominal muscles. She also mentioned that "Core Belt" can be used in conjunction with "SIXPAD HOME GYM," which allows users to train at home just like at a gym, and with the newly introduced "SIXPAD The Bike Smart".
SIXPAD was modeled after Ronaldo's abdominal muscles.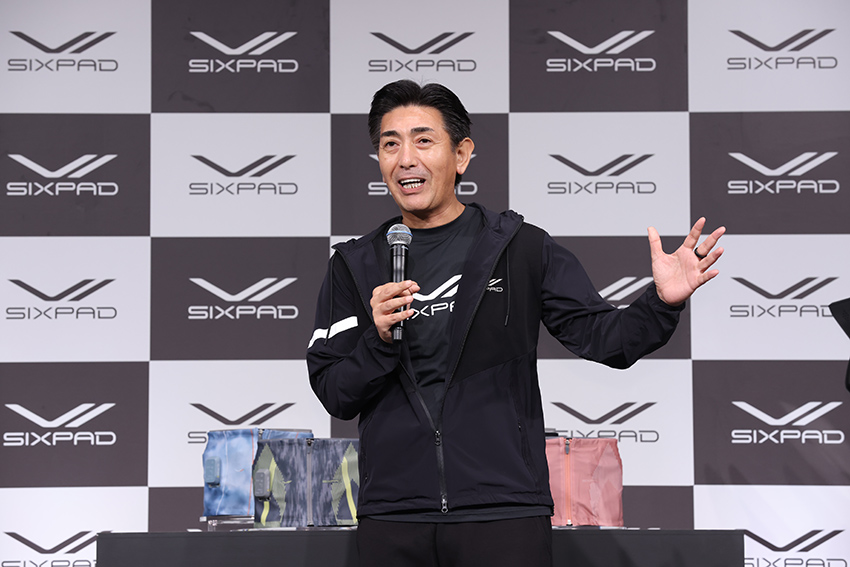 Matsushita took the stage to thank everyone in the audience for their support, saying that he designed the first SIXPAD product based on Ronaldo's abs. He revealed that the product was born exactly from his abs.
Now there are 70 items in existence and the total number of EMS units shipped has exceeded 3 million
*
. He expressed his gratitude to Ronaldo, saying that it is precisely thanks to Ronaldo that we have been able to establish our position in the EMS industry.
*SIXPAD EMS series results from May 2015 to January 2022
Ronaldo smiles to the welcoming mood of the audience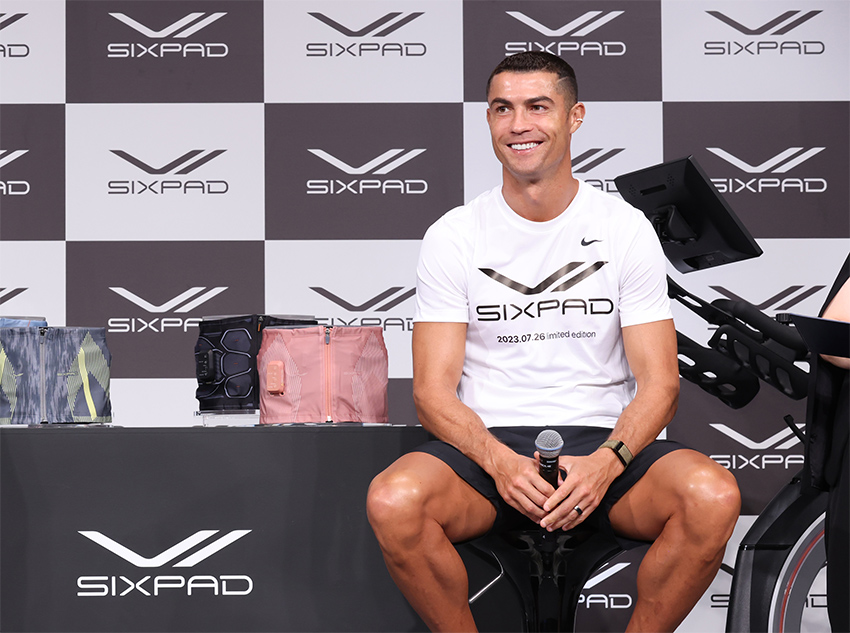 All in attendance waved Portuguese flags and welcomed Ronaldo to the stage as he took the stage for his first visit to Japan in eight years. Ronaldo appeared on stage waving his hands and smiling to the welcoming crowd and said, "I am delighted and honored to be a part of the SIXPAD family, and I am delighted to be here in front of you all."
Ronaldo: "I feel a special bond with my partnership with SIXPAD. Coming to Japan is always special".
During the talk session, they talked about their encounters and their impressions of the time. Matsushita said, "I believe I was given a chance by a superstar. Thank you so much," he said. Ronaldo said, "Being a part of the MTG family has been a unique and irreplaceable experience. I have never experienced Japanese culture before, but the Japanese people are very hardworking and have great respect for others, so coming to Japan has always been a special experience and it hasn't changed."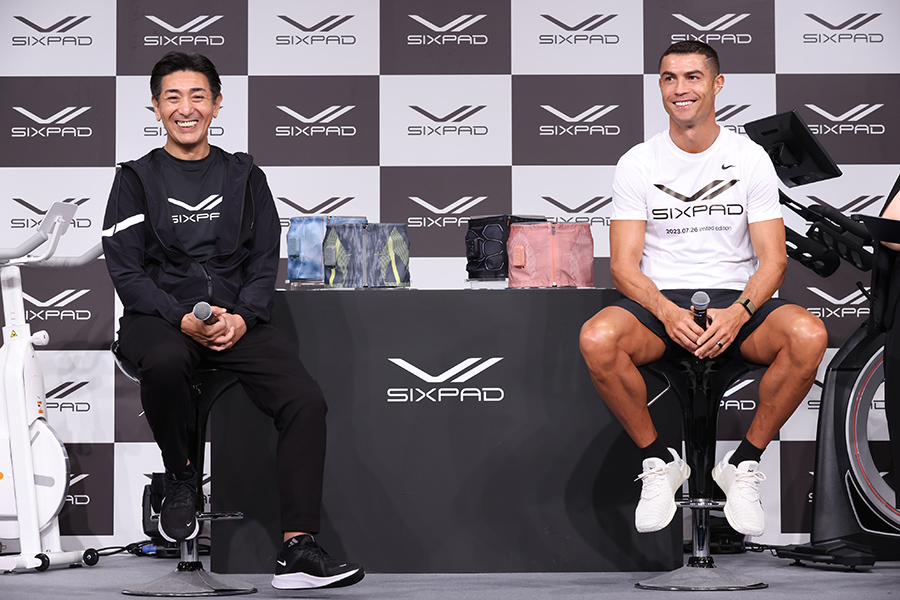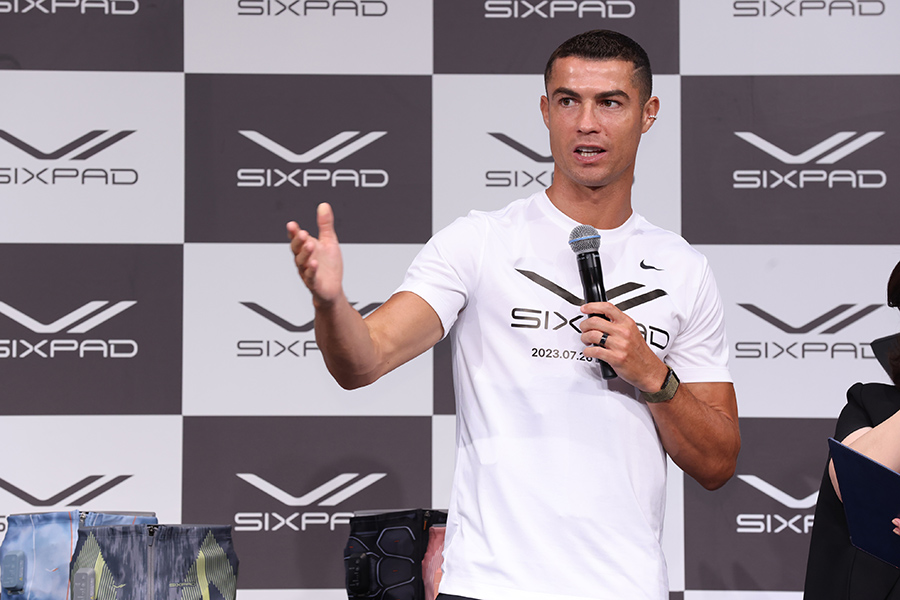 Looking back on Ronaldo's first visit to Japan in 2015, Matsushita said, "When Ronaldo came to Japan for the first time, I invited him to my home and treated him with food from his hometown in the Goto Islands. It was a very pleasant memory," said Ronaldo, "I remember it very well. I will never forget the hospitality I received." He added, "I feel a deep bond with the partnership with SIXPAD. I feel a family connection with all of us at MTG, which is at the root of this partnership, and I think it's a really great relationship that has lasted for almost 10 years," he said, revealing the deep mutual trust that exists between the two companies.
He also commented on his impression when he first saw the product based on Ronaldo's abdominal muscles: "I thought it was a revolutionary product in terms of design and concept. Unlike conventional training gear, I remember feeling something special instantly."
Matsushita said, "Since we are creating a brand with the world's number one athlete, we have aimed to be number one in terms of evidence and design. We will continue to strive to be a brand worthy of being Ronaldo's partner."
Ronaldo's theory on the importance of the core and mentality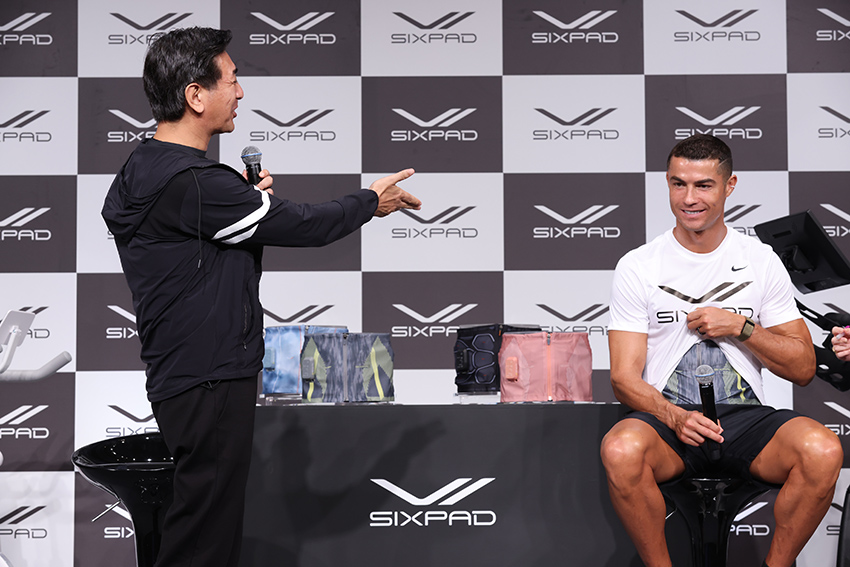 When asked about the importance of the core, Ronaldo said, "The core is an important part of the body that needs to be trained. He added, "What I emphasize is mentality. Only when you have the mentality, the coordination between the body parts is strengthened. This is where the body functions well as one.I don't think there is any other tool that can match SIXPAD's Core Belt."
When Matsushita said, "I would love for Ronaldo to wear the Core Belt," Ronaldo turned down his T-shirt and said, "Actually, I'm already wearing it." The audience was thrilled to see Ronaldo wearing the Core Belt!
Ronaldo: "I am very moved. There is nothing better than this. Believe in your dreams."
At the event, children invited to the venue conducted an interview with Ronaldo. The first to speak was Reo Akagawa, 9 years old. When he read out a letter in Portuguese expressing his feelings for Ronaldo, Ronaldo said, "I am really touched when I receive a card like this. I don't think there is anything better than this. Believe in your dreams, and they will come true."
Next to take the stage was Kaisei Yamada, 7 years old. Look at my training! He then demonstrated the "plank," a core training exercise, in front of Ronaldo. When Ronaldo saw this, he smiled and gave him a gentle hug.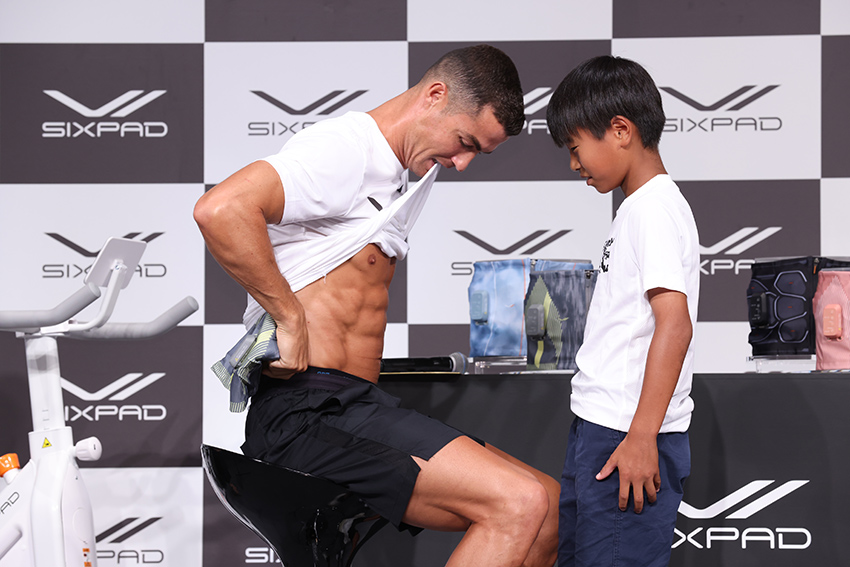 The last person to take the stage was Ryuki Nagahara (12 years old). He showed off his abs, saying to Ronaldo, "Look at my abs!", which drew applause from the audience. He then asked Ronaldo, "Please show me your abs, too!" Ronaldo also showed off his own abs, which drew even louder applause from the audience. The interview ended with a commemorative photo of Ronaldo and the three children.
The event ended with a raffle for an autographed T-shirt (for one person), which Ronaldo wrote on the spot, and was a great success.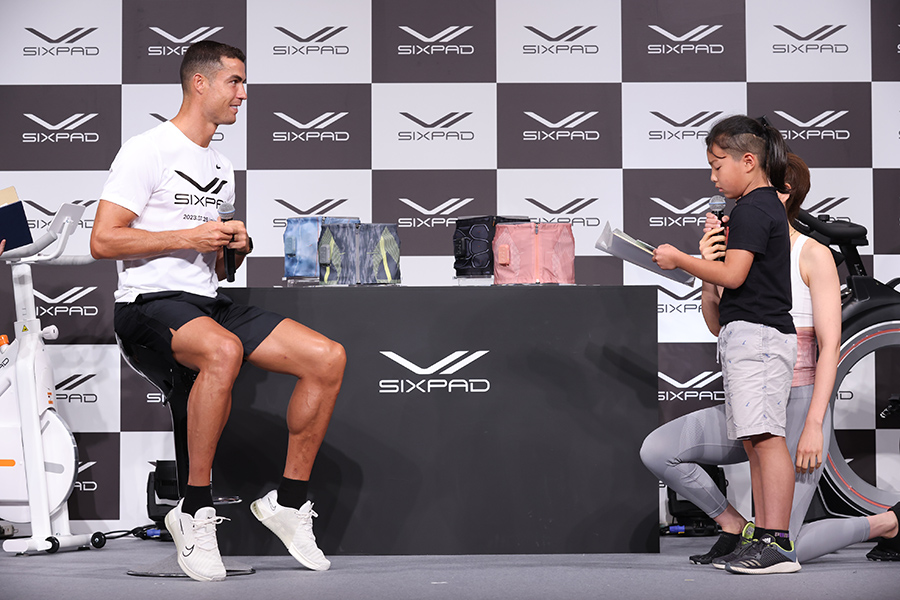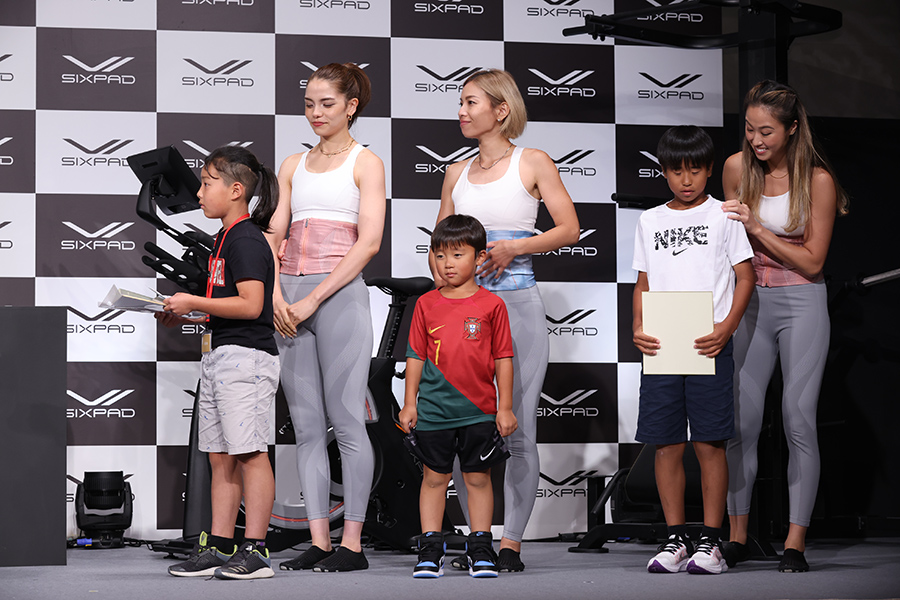 Product Overview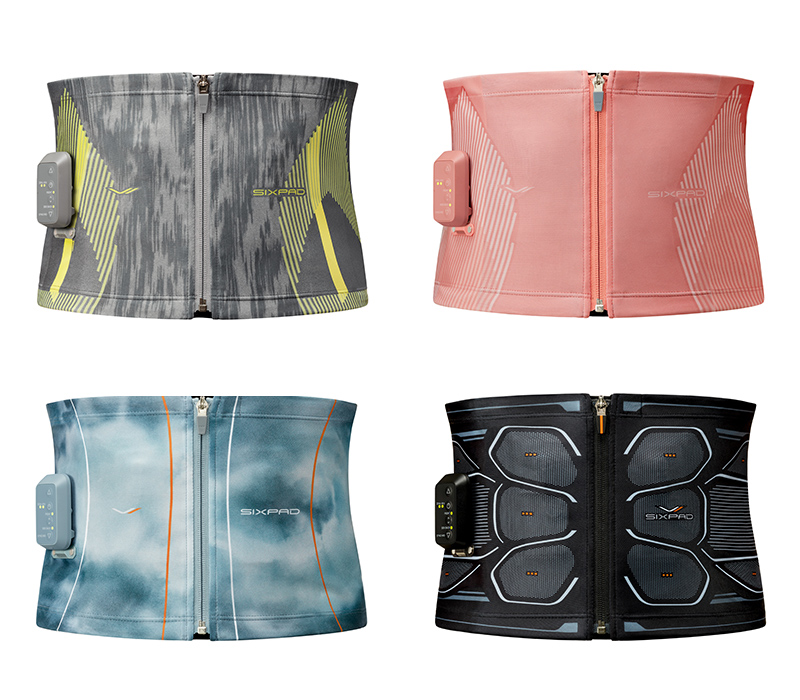 Approaches the abdominal muscles, flanks, and lower back muscles to strengthen the core.
It can be used with "SIXPAD HOME GYM" and other full-body exercises such as running to achieve efficient training.
Product name: SIXPAD Powersuit Core Belt [HOME GYM compatible model]
Price: 53,900 yen including tax
Color: Gray, Pink, Blue, Black
Release date: April 27, 2023 (except black, which will go on sale May 19, 2023)
Size: S, M, L, LL (for both men and women)
Accessories: spray bottle, laundry net, pouch
https://www.mtgec.jp/wellness/sixpad/products/powersuit/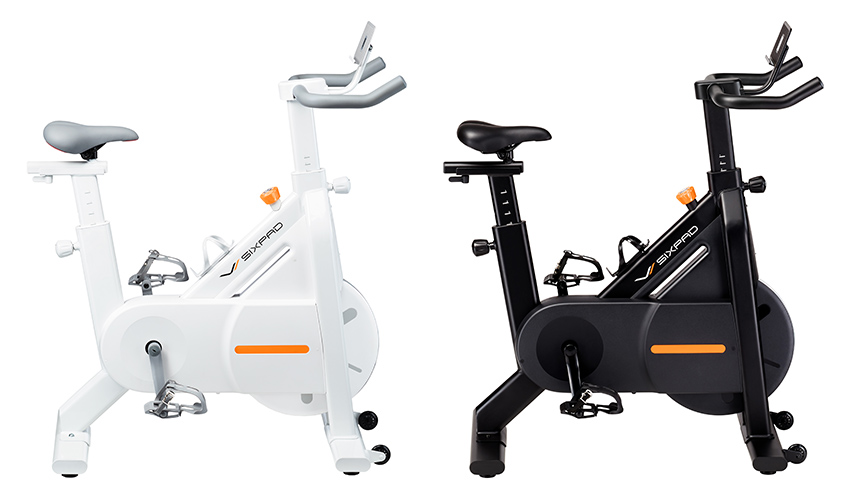 Space-saving, compact type bike that can be used anywhere
Product name: SIXPAD The Bike Smart
Price: 53,900 yen including tax
Color: White, Black
Release date: April 27, 2023 (White will be released on May 19, 2023)
Size: approx. W925 x D515 x H1225 mm
Weight: approx. 30 kg
https://www.mtgec.jp/wellness/sixpad/products/powersuit/corebelt.html#bike_smart