2022/04

PRODUCTS

RELEASE
New product under the MEGLY brand,
the Ultra Carbonated Mist Device
"MEGLY" to be Launched on April 26th!


For skin that is revitalized and toned in seconds*1
MTG Co., Ltd. (Headquarters: Nagoya, Aichi, Japan, President: Tsuyoshi Matsushita) announces that it will start selling the ultra-carbonic acid*2 mist self-care device "MEGLY" from the carbonic acid self-care brand "MEGLY" based on the concept of "circulation" on April 26 (Tue) through its dedicated EC site.
For those who want to be among the first to enjoy the MEGLY LIFE from the day of its launch, advance orders will be accepted from April 12 (Tue) to April 20 (Wed), 2012*3.
Pre-order site:
https://megly-jp.com/lp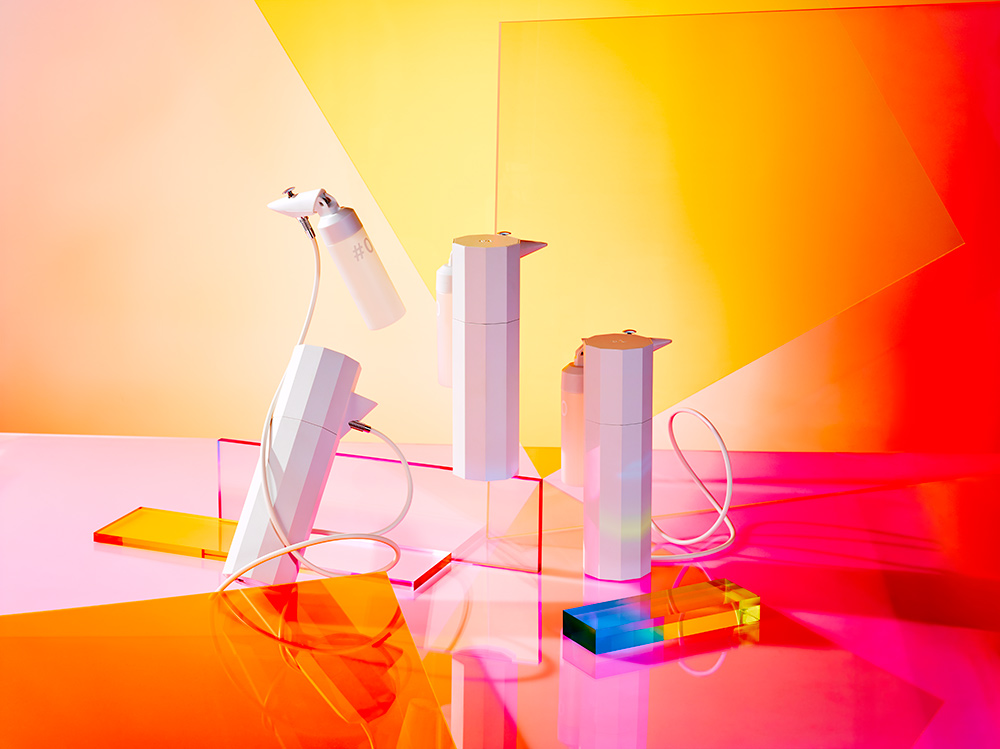 "MEGLY" is a mist-type self-care device that delivers Ultra Carbonic Acid*2 mist precisely to your skin*4 and makes you feel refreshed*1 with its proprietary "Carbonic Acid Delivery Technology".
As a brand that values "your personality," we aimed for a product design that can be used by people of all genders.
The compact and stylish design in matte white can be used in any place and in any scene.
*1 The circulation of the serum to the surface of the skin.
*2 Highly concentrated carbonic acid and carbonic acid mist realized by our own technology.
*3 Delivery may be difficult in some areas and remote islands on the day of release.
*4 To the stratum corneum
■ Proprietary "Carbonic Acid Delivery Technology
Carbonic Acid Delivery Technology is MEGLY's proprietary technology that delivers an ultra-carbonic acid mist*2 to your skin*4 through three features: active carbonation, high concentration carbonic acid gas bottle, and fine misting system*1.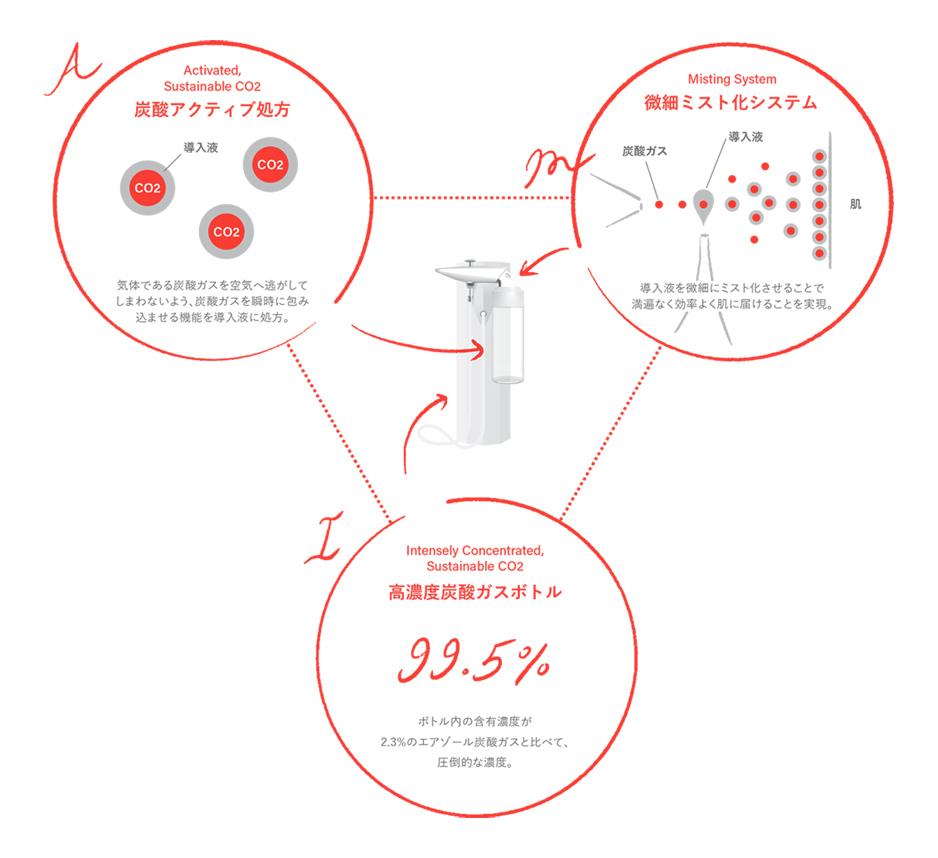 Activated Sustainable CO2
This is applied to all "Meguri" serums. This is an original method that can hold about 3 times*5 more carbonic acid than conventional cosmetic solutions. The carbon dioxide gas is delivered to the skin without escaping, which would easily escape into the air as a gas*4.
Intensely Concentrated CO2 Gas Bottle
The carbon dioxide in the MEGLY gas bottle is 99.5% pure*6 and uses 33 times*7 more carbon dioxide than the aerosol type which uses carbon dioxide as an injection material.The carbon dioxide gas used is recycled from off-gas*8 emitted from the factory.
Misting System
The Misting System is a highly concentrated, ultra-pure*6 and highly concentrated*5 carbon dioxide solution that is misted into a fine mist approximately 1/10th the size of a peel*9 to deliver carbon dioxide evenly and efficiently to the skin*4.
By adjusting the air vent of the "Meguri" Dosage and high concentration carbon dioxide gas in 0.01mm increments, a soft touch to the skin has been realized.
*5 According to the research of our conventional products.
*6 Carbon dioxide content in the gas bottle.
*7 Amount of carbon dioxide gas contained in the same content volume.
*8 Gases produced in the manufacturing process of oil, natural gas, and science.
*9 The average size of pores is 300μm as a result of self-tests.
■ "Meguri" Serum / MEGLY #0 (Number Zero) Features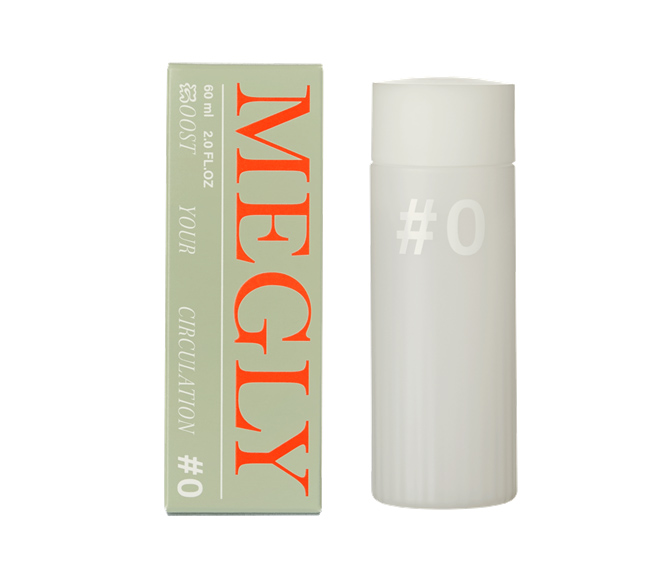 MEGLY #0 is an all-skin type base care moisturizer for various skin types. It contains many skin base care ingredients that lead to a fresh and toned skin.
The relaxing fragrance of bergamot and lavender and the soft fine mist will envelop you.
■ Product Outline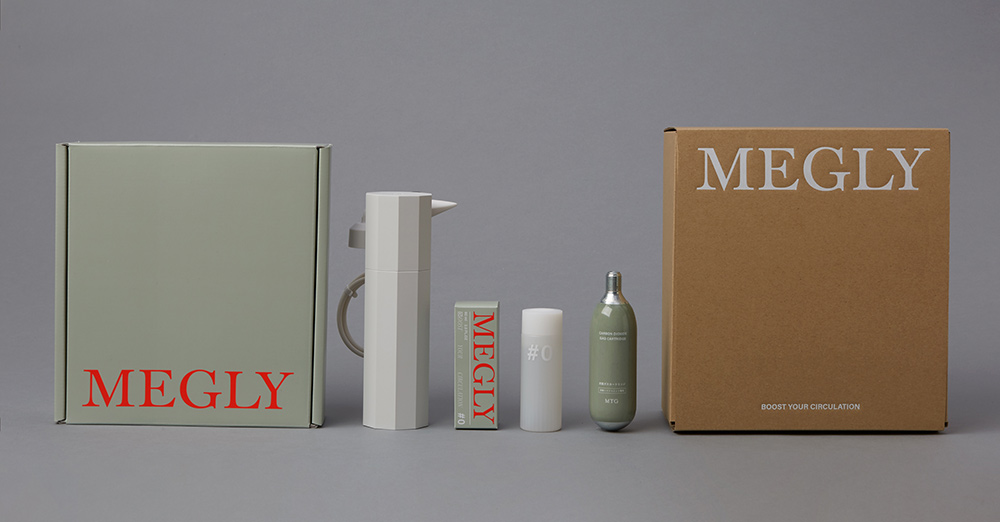 [ MEGLY Starter Kit ] 30,000 yen (tax included)※10
The starter kit includes a device, a bottle of MEGLY induction solution, and a carbon dioxide cartridge (1 bottle). This kit is for first-time users of MEGLY.
[ Meguri Serum /MEGLY #0 (number zero)] 5,940 yen (tax included) / set of 2*11
This is a set of two bottles (60ml/1 bottle) of MEGLY's exclusive MEGLY induction solution, which is subject to regular purchase. This is a skincare lotion for all skin types, and one bottle is good for approximately 4-5 weeks*11 of use.
[MEGLY carbon dioxide cartridge] 3,300 yen (tax included) / set of 2*11
This is a set of two carbon dioxide cartridges to be installed in MEGLY, a product subject to subscription purchase. 1 cartridge is for approximately 4 to 5 weeks*12 of use.
*10 Payable in installments up to 60 payments with no monthly fee.
*11 In addition to bulk orders, regular orders are possible, but not in single units.
*12 In the case of using MEGLY for 8 seconds twice a day, morning and night.
■ About the MEGLY brand

"MEGLY" is a self-care brand that supports "valuing your own personality", born from the desire to promote various circulation to society and the earth by using the "circulation ability" of carbonic acid to face one's own naves and thinking.
As a brand that values "your personality", not just an image of what it should be, we will continue to develop self-care products and services that can be used by all people, regardless of gender. As a brand that uses carbonic acid, we will also give consideration to the environment and introduce services that are kind to the earth and people and that can be used safely for a long period of time. Through "Meguri", which is the origin of the brand name, we aim for a world where everyone in the world shines in their own way, where everyone recognizes each other, and where everyone shines in the future.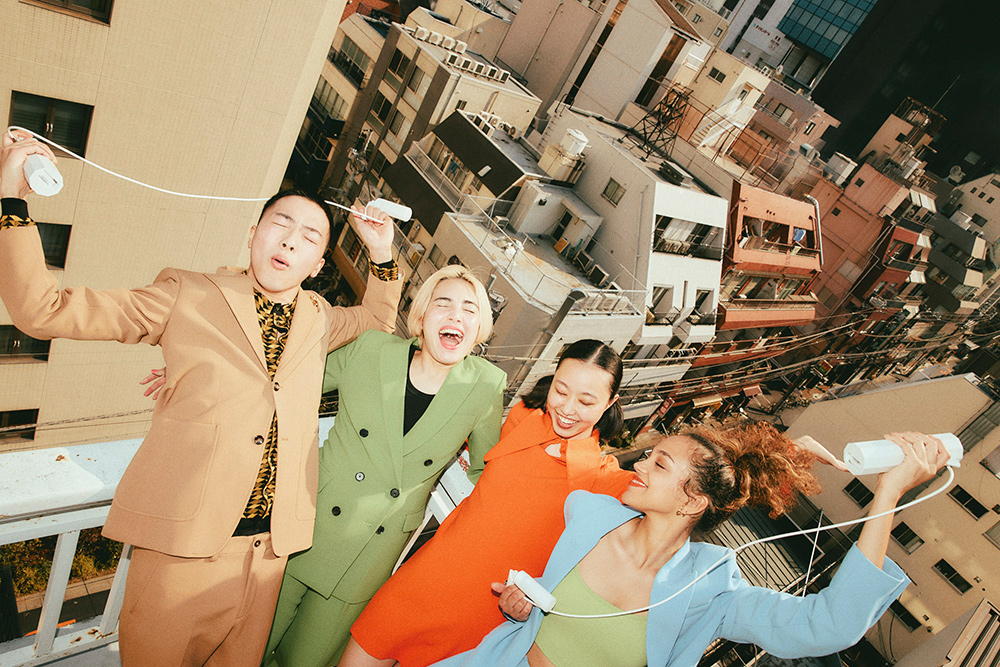 WEB media "MEGLY&CO":
https://media.megly-jp.com/
MEGLY Official Instagram:
https://www.instagram.com/megly_jp/
MEGLY Official Twitter:
https://twitter.com/MEGLY_jp
MEGLY official LINE:
https://lin.ee/YbPcD4l
Pre-order site:
https://megly-jp.com/lp